Discover a Top Maui Vacation Home for Rent - Honu Hale in Napili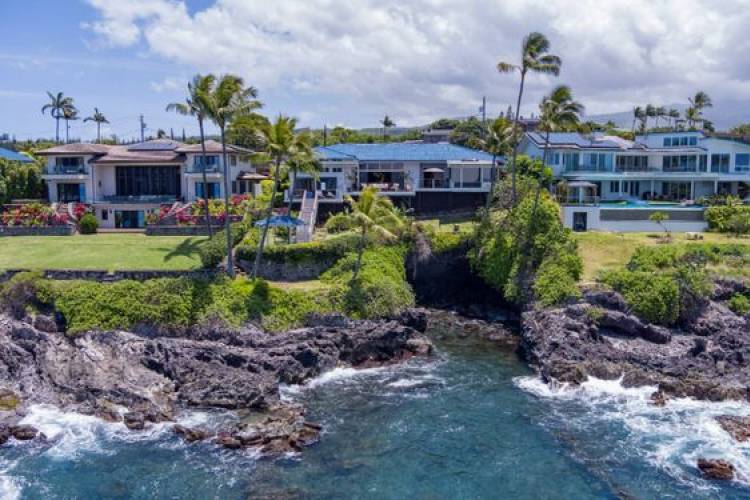 Located in Napili, just below Kapalua, Honu Hale is an elegant four-bedroom home featuring unobstructed ocean views. The property is only within a 10-15 min drive from the famous resort areas of Kaanapali and the town of Lahaina. With six bedrooms and 4.5 bathrooms, this spacious house can sleep up to 12 guests, perfect for big families and those traveling in big groups.
Napili is a small beach town along the northwestern shore of Maui sandwiched by two other resort towns, Kapalua and Kaanapali. The town is a prime tourist destination, home to beautiful resorts and some of the best vacation rentals in Maui, such as Honu Hale.
If you're heading to Maui for a holiday and are thinking of staying in Honu Hale, here's everything you need to know about this vacation rental property in Maui.
Features and Amenities
Honu Hale is an oceanfront home with six bedrooms, 4.5 baths, a fully equipped kitchen, and a living room. Featuring a master bedroom with an ensuite bathroom fitted with a bathtub, shower, and two sinks, families with kids will love staying at this beautiful home. Aside from the king-sized bed in the master bedroom, the other bedrooms have king-sized beds, a queen-sized bed, and a queen sleeper sofa bed. There's also a baby crib available for guests with babies. All in all, this spacious home can sleep up to 12 guests. 
Guests who love to cook can take advantage of the well-equipped kitchen, complete with cooking amenities and modern appliances. But if you feel like having barbecues for dinner, head outdoors and take advantage of the outdoor gas grill. You can enjoy your meals in the dining room or at the poolside, where you can marvel at the beautiful Hawaiian sunsets while sharing delicious meals. This six-bedroom property has amenities for everyone's entertainment, such as a cable TV, DVD player, and high-speed Internet. 
While you will probably be spending most of your time at the beach, you can also take advantage of the property's aqua-colored swimming pool if you don't feel like going out to explore. At 16' x 32' in size, this giant pool can accommodate the entire group and features beautiful inlaid tiles in a sea turtle design.
Access to Fun Outdoor Activities
Honu Hale is set in a gated community in Napili with an exclusive street running alongside Turtle Bay at Honokeana Cove. Despite being small, the town of Napili has beautiful beaches with a quiet and relaxing atmosphere. Honu Hale vacation home rental faces a stunning ocean vista on a pristine bay. At the property's expansive decks, you can marvel at the scenic views of the Pacific Ocean and the panoramic views of the neighboring Molokai and Lanai.
Nestled just below the Kapalua Resort, Honu Hale vacation house is only minutes away from the beautiful beaches, scenic hiking trails, world-class golf courses, and award-winning tennis facilities. Honu Hale is located close to the Keauhou shopping center, where you will find shops, restaurants, drug stores, and supermarkets. Moreover, the popular resort towns of Lahaina and Kaanapali are only 15 min drive away. 
You will find the beautiful sandy beach of Napili Bay nearby, a popular spot for snorkeling. You can snorkel in the crystal-clear waters in the cove and swim alongside dozens of gentle sea turtles, who called the area their home. Sea life is constantly on display in Napili Bay, and during whale season, you could be lucky to spot some humpback whales migrating to the warm waters of Maui each year. 
Ideal for Families and Big Groups
Honu Hale oceanfront home for rent is a spacious property ideal for those traveling in groups or big families with kids. This property is a great option if you're thinking of going to Maui for a family reunion, a bachelor party, or a company outing. It has six bedrooms that can sleep up to 12 guests! 
With plenty of amenities available for you to use, your group will have fun staying at this elegant home. At night, you can gather around the poolside to enjoy delicious grills. Or you can head indoors and take advantage of the smart TVs. If you're bringing your car to Maui, there's an onsite parking area for four vehicles. 
Staying at Honu Hale is better than staying at a hotel or resort, especially for big groups. This spacious oceanfront home has the amenities you would expect from a holiday home. It's located close to the beach, where you can swim and enjoy plenty of water sports activities. And the best part about staying in Maui vacation homes like the Honu Hale is that you can enjoy some privacy since you'll have the entire place to yourselves!