Hawaii for the Holidays - Why You Should Go & How You Can Save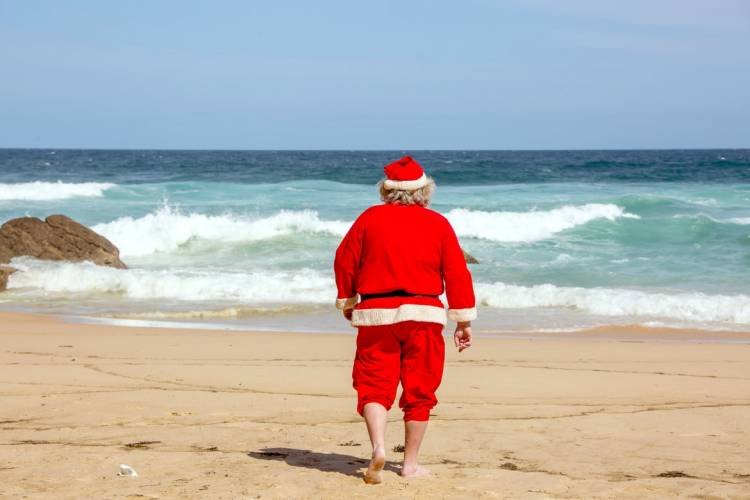 If you are looking for some warm place to spend the holidays, Hawaii would be a great idea. In fact, Hawaii has become the go-to annual holiday vacation for many people seeking a tropical paradise to celebrate the festive season. 
When planning a vacation to Hawaii for the holidays, deciding when to go can be affected by the costs and crowds. The first few weeks in December are very quiet, and everything is relatively inexpensive. But for the last couple of weeks, which would include Christmas and New Year's Eve, the islands are often crowded. Since this is the peak season, you can expect prices to increase, including the cost of renting a vacation rental. 
Despite the higher costs, going to the Aloha State during the holidays is well worth it. Here are some of the top reasons why you should consider going to Hawaii for the holidays.
Escape the Winter Blues
For some people, the busy holiday season can be challenging. It can be a stressful time for those who need to meet work deadlines before the year ends. Others also find the pressure of having to buy everyone a gift and hosting parties financially draining. Thus, escaping to the beautiful islands of Hawaii is a great way to avoid all the stresses that come with the holidays. 
Running off to Hawaii is also a perfect way to escape from the freezing temperatures and not just the negative feelings and work pressures. In Hawaii, you will spend your days lazing under the sun with a Hawaiian cocktail in hand, and all the worries will melt away! While prices can be on the higher side, some travel companies offer exclusive deals for the holiday season, including vacation rental specials.  
Celebrate the Holidays Island-Style
Spending the holidays in Hawaii offers an unparalleled experience. Although the Aloha State is a part of America, it has a distinctive culture and landscape, making it a fascinating place to visit, regardless of the season. But the holiday season is an even more exciting time to be in Hawaii.
Although the holiday traditions in Hawaii are similar to some other places where families and friends gather around to celebrate, Hawaiians celebrate the holiday with a twist. Since they live close to the water, locals would gather at the beach for swimming and surfing. You will hear musical groups playing ukuleles and guitars and hula dancing to entertain the crowds. And instead of Christmas turkey and ham, a kalua pig will be the highlight of the holiday feast. So, if you happen to be in Hawaii on the holidays, you'll celebrate Christmas or New Year with a unique twist!
Witness Surf Competitions
It is during the winter season that Hawaii enjoys the most powerful waves. Because of this, surfing competitions take place in various areas all over the state. The busiest season for surfing in Hawaii is between November and February. 
In the North Shore of Oahu, the Vans Triple Crown of Surfing occurs throughout the Christmas season. Meanwhile, the Maui Pro presented by ROXY is happening every first week of December in Maui's Honolua Bay. If you want to witness this surfing event, consider staying in one of the vacation rentals in West Maui, such as in Lahaina and Kaanapali. These areas are only a few minutes from Honolua Bay.
Participate in Family-focused Events
An integral part of Hawaiian culture is the care and nurturing of family, also known as ohana. Thus, during the holidays, you will find plenty of family-focused events happening all over Hawaii. Aside from the Christmas events happening at the various hotels and resorts, you will find the holiday celebrations even on city streets. 
In various parts of Hawaii, you will find Christmas markets selling souvenirs and gift items. During the festive season, major shopping areas, city streets, hotels, and resorts are decorated to mark the festive season. There are also Christmas parades happening on every island. You and your kids can also attend craft-making activities where you will learn how to make Hawaiian ornaments. There are also Christmas caroling events, free concerts, musical shows, and other fun festivities. So even if you are far from home, you can still feel the spirit of the Christmas season when you go to Hawaii for the holidays.
Take Advantage of Holiday Special Deals
As expected, prices tend to increase during the holiday season. A big chunk of your travel expense goes to your accommodation. Look out for the latest Maui vacation rental deals!
Not only that, you can lower the cost if you stay at vacation rentals, especially if you are traveling in a group. For instance, this spacious vacation rental property in Maui has two bedrooms and can sleep up to six guests. It can cost you less than staying at hotels where you need to book three hotel rooms to accommodate all six guests. Another reason you can save money on a vacation rental in Maui is it comes equipped with kitchen facilities, allowing you to cook your meals and minimizing the need to dine out, which can cost a lot of money.
While some people would advise against going to Hawaii for the holidays since it's the busiest time of the year and everything seems to be expensive, there are many good reasons why you should consider a vacation to Hawaii this festive season. Spending your holidays in Hawaii means you get to experience exciting events and festivities, which you may not be able to at any other time of the year. A vacation to Hawaii would be a perfect gift to give to your family this holiday season. Instead of gifts that will only collect dust someday, a Hawaii vacation will leave your family with memories that they will treasure for the rest of their lives.