Lahaina Vacation Home Rental Spotlight: Alexandra's at Front Street
Lahaina is one of the most visited spots in Maui. It's home to several tourist attractions and has plenty of shopping and dining options. If you want to base yourself in Lahaina during your vacation to Maui, you want to consider a stay at Alexandra's at Front Street. This four-bedroom Plantation-style estate sits right on Front Street, in the heart of Old Lahaina Town. It's a spacious property that can accommodate up to eight guests, perfect for families and large groups of travelers.
Here's everything you need to know about this luxury vacation home rental in Maui.
Features and Amenities
Alexandra's at Front Street is a vacation house built on a half-acre of land located directly across the street from the seawall. It has expansive lawns, spacious covered lanais, a private lap pool, and beautifully landscaped grounds. The property opens to stunning views of both the mountains and oceans.
As you get inside the main house, you will immediately notice its cozy and relaxing ambiance. The interiors give off an old Hawaiian feel featuring oversized windows and high ceilings. There are three master suites and 3.5 bathrooms in the main house. Each master suite is equipped with spacious bathrooms with walk-in showers and a bathtub that gives off a "spa-like" vibe. The modern kitchen comes with the latest high-end appliances, including two refrigerators, ovens, burner gas range, microwave, dishwashers, and more. There's also a quartz-topped counter space in the middle for meal prep.
Within the property, there is another studio apartment with its own amenities. The apartment is located right across the swimming pool from the main house. It has two queen-sized beds, a full bathroom, and a kitchen with a breakfast bar. The kitchen is also fitted with a full-size refrigerator, electric range, dishwasher, microwave, coffee machine, and more.
Guests staying at the property will be given plush towels and quality linens during the stay. There are also beach chairs, umbrellas, and sand toys for the kids to play with and take to the beach. Those with cars can take advantage of the on-site parking that can accommodate up to four vehicles.
Centrally Located in Lahaina
With its beautiful pool and spacious covered lanai, you probably don't need to go out during your stay at Alexandra's at Front Street. But if you wish to explore, then you don't need to go far away. Everything is within walking distance of this property. This vacation house is extremely quiet, but it's still in the middle of the action in Lahaina. Just a mere two blocks away from this property is the famous Baby Beach, a family-friendly beach in Lahaina with a calm shallow area, which is safe for the little kids.
Since the house is strategically situated on Front Street, then you will have easy access to the local attractions, as well as several art galleries, fancy restaurants, and more. Front Street is also a haven for shopaholics. It's home to an amazing assortment of shops and boutiques, set along a convenient stretch of pedestrian-friendly street. Here, you will find boutiques selling inexpensive souvenirs, clothing, accessories, and pretty much everything. The best part is that all these are only a walking distance away from the property.
Although you will probably choose to cook and take advantage of the property's well-equipped kitchen, if you choose to dine out, then you don't need to travel far. Front Street at Lahaina is home to some of the best restaurants in Maui. Check out the Fleetwood's on Front St, a multi-level dining venue located in the heart of Lahaina. This restaurant is owned by the famous musician, Mick Fleetwood and serves exquisite food and wine.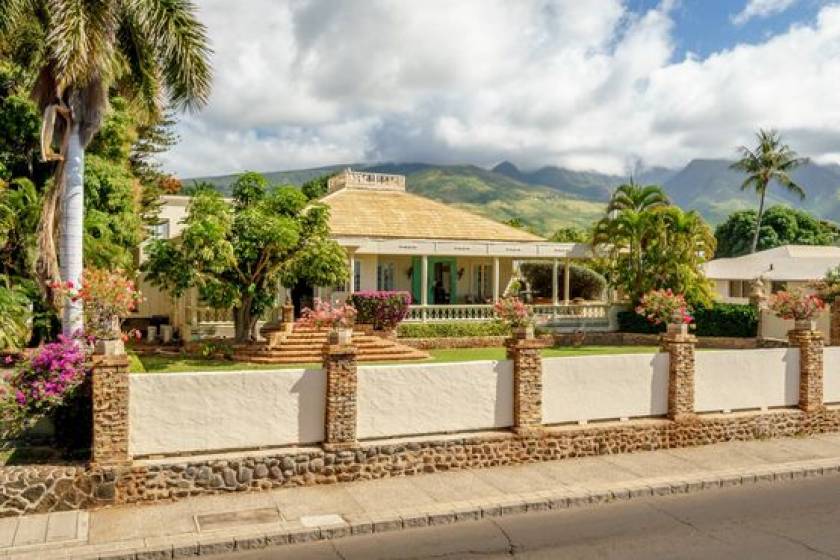 Perfect for Families and Large Groups
Alexandra's at Front Street is an ideal home rental for group vacations and family reunions. The property is very spacious and has plenty of rooms for everyone. The main house has three master suites with king-sized beds, and the studio apartment has two queen-sized beds. The property can accommodate up to eight guests. Each master suite at the main house can sleep up to two guests, including kids below two years old. You can have barbecue parties during your stay, but guests must stay quiet from 9:00 PM to 8:00 AM to avoid disturbing the neighbors.
So, if you are heading to Maui for a beach holiday with the family, Alexandra's at Front Street would be a perfect choice for your accommodation. It is very spacious and has all the modern comforts and amenities for a relaxing stay. What's more, this vacation home is located close to a family-friendly beach where kids can swim safely. 
Of course, the Alexandra's at Front Street is also perfect for large groups of friends who want to stay in the middle of Lahaina. Lahaina is a great place to base for your holiday in Maui, as it has the best shopping and dining spots on the island. If you choose to stay here, you certainly will not get bored since there are plenty for you to explore, and all these are walking distance away from the property.