New Puamana 3 Bedroom Oceanview Maui Vacation Rental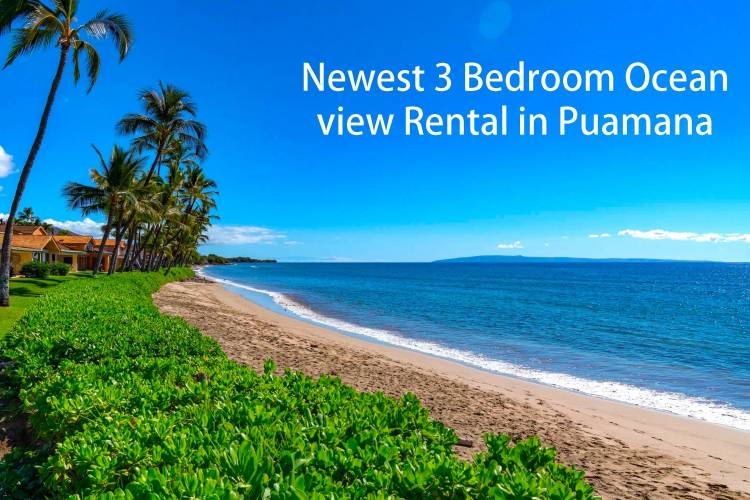 New Maui 3-Bedroom Oceanview at Puamana
Nestled in the breathtaking community of Puamana, this Maui vacation rental is the ultimate way to experience the wonders of Hawaii's tropics. With three beautifully appointed bedrooms, this fully-renovated beach home offers visitors a luxurious and unforgettable stay. Wake up each morning to the soothing sound of the waves crashing against the shore and revel in the stunning ocean view from your balcony. From the stylish decor to the fully equipped kitchen, everything has been designed with your comfort in mind. Treat yourself to a well-deserved break and indulge in a truly memorable Hawaiian vacation, surrounded by the unparalleled beauty of Puamana.
Vacation Rental Amenities
Puamana vacation rentals present a modern tropical vibe that is both stunning and practical for family or group getaways. This stunning 3-bedroom, 3-bath, two-story townhome offers mesmerizing ocean views from the lanai and bedrooms. The main floor features an open-concept living area that seamlessly flows into a fully-equipped kitchen and dining space. One of the highlights of this home is the expansive greenbelt just outside where you can grill, dine, relax, and soak in the tropical sunshine surrounded by coconut palms and oceanfront vistas.
The vacation rental itself is spacious and modern, with plenty of room for up to six guests. The first floor of the rental has three bedrooms and three bathrooms, as well as a living room and a fully equipped kitchen. Each bedroom has a comfortable king-sized bed, and there is also a TV and air conditioning in each room. The living room has a large TV and comfortable seating, making it the perfect place to relax after a long day at the beach.
If you're a surfer, SUP enthusiast, diver, or just anyone who loves the ocean, Puamana is the ideal vacation rental for you. With direct access to the water and a heated outdoor shower on the lanai, you can enjoy the ocean and all its wonders at any time you like. Inside, the three-bedroom home boasts a first master suite upstairs that offers a spacious, ocean and mountain view deck for sunning and star gazing. It also features an ensuite bath, personal smart TV, and a top-quality king-sized bed, ensuring your comfort is never compromised.
Location
Puamana vacation rentals are located in the historic whaling town of Lahaina, Hawaii. Nestled on 30 acres of oceanfront property, Puamana offers quality low-rise townhomes and condos with stunning views of the Pacific Ocean. The resort community also features 3 swimming pools, a heritage clubhouse, a tennis court, plenty of green space, a playground, and a gym. Puamana is conveniently located near many attractions such as the Lahaina Harbor, Kaanapali Beach Park, and Front Street Shopping Center. Whether you're looking for an outdoor adventure or just want to relax and enjoy the sunsets from your balcony, Puamana has something for everyone!
Boasting three spacious bedrooms and beautiful ocean views, this meticulously designed property is perfect for families or groups of friends seeking an idyllic getaway. The second master bedroom, located upstairs, features an ensuite bath with a shower/tub, a king-size bed, tropical garden views, and a personal smart TV. The third bedroom, with a queen-sized custom bed and garden views, is located on the ground floor with a guest bath just outside the bedroom. With split ductless air conditioning, ceiling fans, and quiet double-pane glass windows throughout, this vacation rental ensures maximum comfort for you and your family, even after a fun-filled day in the sun.
Hawaii Activities
When you rent a Puamana vacation rental, you have access to some of the best attractions in Lahaina, Maui. Located on the sunny shore of the historic whaling town, Puamana is a gated Maui oceanfront resort community with quality low-rise townhomes and plenty of green space. When you rent a vacation rental in Puamana, there are plenty of activities to keep you entertained. The private community offers access to a range of amenities, including three swimming pools, a townhouse, and a tennis court. You can also enjoy the peacefulness of the oceanfront by going for a swim, snorkeling, kayaking, or stand-up paddleboarding.
Venturing outside of Puamana, you'll discover an array of nearby attractions that cater to all interests. The historic town of Lahaina is just a short drive away, offering a vibrant art scene, charming boutiques, and diverse dining options. For those seeking a historic stroll, Baldwin Home Museum provides a glimpse into Lahaina's past.
You can also explore the nearby beaches, including Puamana Beach. There are also plenty of shops and restaurants in the area, as well as art galleries and museums to explore. There are also Zen retreats available for rent that offer indoor/outdoor living spaces with ocean views and gourmet kitchens. No matter what type of experience you're looking for while renting a Puamana vacation rental, you'll be sure to find something that suits your needs!
Rent a Vacation Rental at Puamana
Renting in Puamana is an ideal choice for a vacation rental. With its gated community, three swimming pools, tennis court, playground, gym, and half a mile of shoreline along the sunny south side of Maui, it offers something for everyone. Whether you are looking for a romantic getaway or a family vacation, Puamana has something to offer. Plus, its proximity to the historic old whaling town of Lahaina makes it easy to explore all the attractions that Maui has to offer.
The variety of vacation rentals available in Puamana ensures that there is something for everyone. From oceanfront condos with breathtaking views to luxurious retreats with indoor/outdoor living and gourmet kitchens, you can find the perfect place for your stay. With discounts and gap specials available from award-winning experts, renting in Puamana is an affordable way to enjoy all that Maui has to offer. Book now and start planning your dream vacation today!