No Ka Oi Hale Oceanfront Maui Vacation Home Rental Spotlight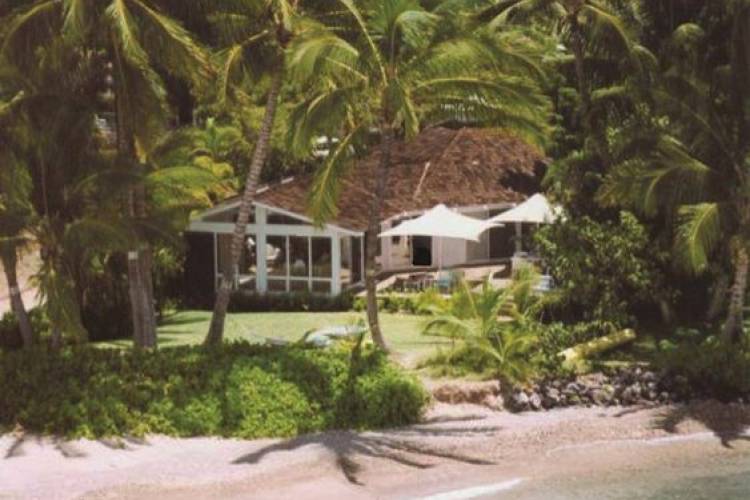 If you're traveling to Maui soon, consider staying in the historic area of Lahaina. As one of the most picturesque destinations in Maui, Lahaina offers an endless array of activities, beaches, and luxury vacation rentals, such as the No Ka Oi Hale, one of Maui's most beautiful oceanfront vacation home rentals. This serene plantation home has three bedrooms and two bathrooms, perfect for families and those traveling in groups.
Here's everything you need to know about this stunning oceanfront vacation rental in Lahaina.
Features and Amenities
No Ka Oi Hale is an elegantly renovated historic plantation home with modern, luxury amenities for a more comfortable stay. It has beautiful, vaulted ceilings, granite finishes, and tile floors in the kitchen. This spacious home has a living room with large wrap-around windows that evoke a feeling of openness and overlook the stunning oceanfront views. There's also an expansive covered lanai that further brings the beauty of the ocean into the living space. If you wish to stay outdoors, take advantage of the spacious sunning deck with large Australian umbrellas to protect you from harmful rays.
The bedrooms and living room at No Ka Oi Hale have overhead fans for your comfort. The house also comes with modern appliances such as TV, VCR, DVD, stereo with CD player, and wireless high-speed internet. There is a fully equipped kitchen where you can cook your meals. It comes with a dishwasher, microwave, blender, coffee maker, and all the other amenities you need for preparing a good meal. There is also a washer/dryer, ironing board, safe, and central air conditioning system. If you wish to go to the beach, feel free to use the beach amenities at No Ka Oi Hale. These include beach towels, beach chairs, hammocks, and barbecue grills.
Centrally Located in Lahaina
One of No Ka Oi Hale's biggest draws is that it's located on a beautiful white sand beach at the northern end of Lahaina. Lahaina is a historic whaling village that's one of the most popular areas for tourists to stay in Maui. It has tons of art galleries and a wide variety of restaurants and shops. Therefore, staying in Lahaina means you will have easy access to the many fun activities to do in Maui, such as shopping, dining, and a wide range of water sports activities.
Given all the amenities and entertainment facilities available for you at the property, you don't have to go out of your vacation rental to enjoy your holiday in Maui. But if you feel like exploring the outdoors, there are plenty of attractions that you can explore nearby. If you're looking to shop for souvenirs and other interesting items, check out Lahaina Front Street. Even if you don't intend to shop, you'll already enjoy walking through the street, lined with shops, high-end boutiques, cafes, and beautiful art galleries.
Lahaina is also a great place to stay if you are interested in taking up activities like whale watching, snorkeling, or sailing. No Ka Oi Hale is located within a beach, but if you want to check out other beaches in the area, you will find plenty of options in Lahaina. For instance, Ka'anapali Beach, a 3-mile beach famous for snorkeling, is only a few minutes away. Napili Bay is another famous beach in Maui located close to Lahaina and only a few minutes away from No Ka Oi Hale.
Ideal for Families and Big Groups
No Ka Oi Hale is a spacious vacation rental in Maui, ideal for those traveling in groups or families with kids. If you're planning a reunion in Maui or perhaps, a company outing, this property is your best bet. It has three spacious bedrooms. One bedroom has a king-sized bed, another has a queen-sized bed, while the third room has a twin trundle bed. All in all, the house can accommodate up to six guests.
At night, you can gather around at the large, covered lanai to indulge in delicious barbecues while sharing wonderful stories. You can play music if you want, but guests must observe quiet time between 9 PM and 8 AM so as not to disturb the neighbors. If you're bringing a car to Maui, you can park it in the garage within the property or the driveway, but not on the street.
Staying at No Ka Oi Hale is much cheaper than staying at a hotel on Maui, especially if you're in a group. Besides, this vacation rental property has the amenities you would expect from a resort. It's located on a beach so you can swim anytime you want to. Plus, you can enjoy some privacy since you won't be sharing the house with other guests. You will have the entire place to yourself, which makes for a truly enjoyable bonding experience.
If you're looking for a luxurious and historic place to stay in Maui, West Maui is the perfect destination. With its endless array of activities and stunning beaches, you'll never run out of things to do while staying here. And with oceanfront home rentals like the No Ka Oi Hale available, you'll be able to relax and enjoy all that Maui has to offer in style.