Maui Vacation Rentals for Large Group of 8 or More Guests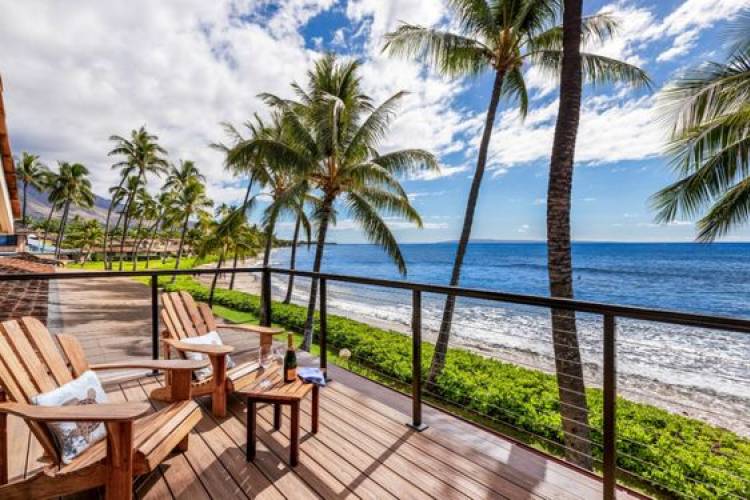 The tan lines are sure to fade but the Maui memories you make while on vacation will stick with you, which is exactly why you should experience what paradise has to offer with your loved ones. And we always think that the more, the merrier! 
If you have been planning a Hawaii vacation for yourself and a large group of your closest friends and family, say anywhere from 8 to 14 guests, you might find that a standard hotel resort cannot offer the most ideal accommodations. So if you find yourself having a hard time finding a suitable place to stay, we have some spacious Maui vacation homes that will allow you all to stay together.
Lahaina is a great town to base yourself on your holiday to Maui. And if you are traveling in a big group, the Alexandra's at Front Street would be a great property to book. Located right in the heart of the Old Lahaina Town, this gorgeous 4-bedroom Plantation-style estate overlooks the gorgeous views of the ocean and the mountains of West Maui. This property is only two blocks away from the famous Baby Beach and only a half-block away from all the fun and entertainment in the Lahaina Town center. Here, you'll find a variety of boutiques, shops, art galleries, bars, and restaurants.
Set in half an acre of land area, this house features a typical Hawaiian interior design that consists of high ceilings, expansive lawns, spacious lanais, and a private pool. The main house has three beds and bathrooms while the studio apartment has one bedroom and bathroom. Aside from the fully equipped kitchen in the main house, the studio apartment has its own separate kitchen. This property is ideal for large families and groups of friends. The front lanai is a perfect place to get together, relax, or simply watch the gorgeous sunset. Costing only $1,275 per night and can sleep up to eight guests, this vacation rental property in West Maui offers good value for money.
If you're looking for vacation rentals in West Maui that can accommodate a group of more than ten people, the Lahaina Oceanfront Estates is perfect. This property consists of two properties and costs only $1,785 per night and can sleep up to 14 guests. The Alii Hale, which is the larger of the two homes, has seven bedrooms, six bathrooms, and approximately 3,000 square ft. of living area. Its master's bedroom is located upstairs and has a Jacuzzi tub and a private lanai that overlooks the ocean. Downstairs, there are two bedrooms with views overlooking the ocean. This massive home features a formal dining room with seating for up to eight persons and a large hammock hanging between the ocean side palms.
Princess Hale, the second home, has three bedrooms and three bathrooms. There are two bedrooms upstairs. One is the master's bedroom with a spacious lanai that opens to the ocean. The master's bedroom has a king-size bed, as well as a queen-size pull-out sofa bed, while the other bedroom has its own bathroom and is furnished with two twin beds. Downstairs, there's a bedroom by the poolside that overlooks the views of the ocean. Both properties are fully equipped with amenities including fully equipped kitchens, large flat-screen TVs, washers and dryers, and parking areas for up to five cars. If you're looking for a vacation rental in Lahaina for group outings, the Lahaina Oceanfront Estates is highly recommended. 
Nestled alongside the white sandy shoreline, Puamana Vacation Rentals enjoy the perfect setting for a Hawaiian family vacation. With scenic views ranging from uninterrupted glimpses of the sparkling ocean to the lush tropical gardens, these oceanfront vacation rentals invite you to step into the true luxury of the island lifestyle and take advantage of this spacious condo resort has to offer!
There are a handful of West Maui condo rentals that can accommodate large groups of up to 8 guests. Many of which showcase coveted and uninterrupted ocean views. Puamana 19-1 for instance, is a 4 bedroom condo for rent that is tucked on the corner of the property. Imagine kicking back on the wooden chairs of the patio with your favorite drink and relaxing to the sound of swaying palms and gently crashing waves. And with two-stories, you will be able to see the accompanying shoreline from just about any part of the vacation rental. 
If you happen to be traveling with an even larger party, Puamana 62-2 & 3 are beautiful adjoining two-story townhomes that enjoy 6 bedrooms, 6 baths, and an expansive amount of living space. Not only will there be more than enough space for 14 guests to enjoy them but this vacation rental offers double the amenities! From 2 fully equipped kitchens to 2 laundry facilities, this is an ideal place to stay in West Maui!
So there you have it! Even with a large group, you can all enjoy your grand Hawaii getaway all together. You'll still have the privacy of your bedrooms to escape to, but at the same time have common areas to mingle. Not only that, but there are fantastic kitchens to make meals for everyone to come together to enjoy a tropical Hawaiian sunset and talk about all your amazing Maui adventures of a lifetime.