Whale Watching in Hawaii - A Top Maui Activity Island-Wide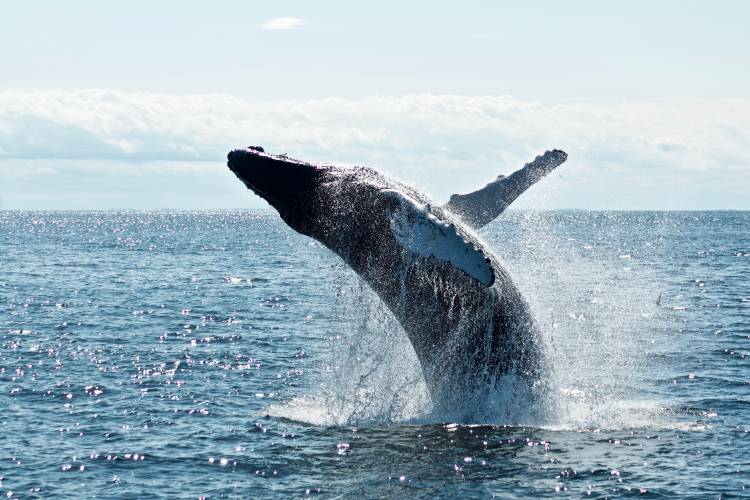 If you're heading to Maui for whale watching, you should stay in West Maui. The area is home to Lahaina, where most whale watching tours will depart. 
The best time to see whales on Maui is from November until May when thousands of the North Pacific Humpback whales will grace the Hawaiian shores for their annual winter migration. Weighing 25 to 40 tons, the pacific humpback whales are some of the world's largest whale species. Seeing them up close is such an incredible experience! 
Here's what you need to know about whale watching in Maui.
How to Experience the Whale Season in Maui
Every year, the North Pacific Humpback whales will travel more than 3,500 miles from Alaska to Hawaii to mate and give birth. Experts believe that the humpback whales have been visiting the Hawaiian Islands since the ancient Polynesian period in 600 A.D. to enjoy the islands' deep and warm ocean waters, not to mention the lack of natural predators in the area.
West Maui is the best area to stay in Hawaii for whale watching. In fact, if you stay in one of the oceanfront vacation rentals in West Maui during the whale season, you could be lucky enough to spot the whales from the shore. You can witness these incredible creatures breaching and nursing their young in the coastal areas of West Maui, such as in Lahaina and Kaanapali. But if you want to get up close and personal with these playful creatures, you better book a whale watching tour.
Maui Whale Watching Tours
The best way to experience the whale season in Maui is to book a guided boat tour with professional crews. You will have a higher chance of seeing the whales since the crews know which areas to visit to spot these beautiful creatures and hear them sing! As your boat traverses along the Hawaiian waters, the crew will share interesting information about the whales and their habits. So, aside from being fun, the tour is educational and a great activity for families with kids.
And be sure to check out Activity Maui to see available guided whale watching tours to book in Maui. Here are some of the ones you'll run into.
Pride of Maui
For a truly unforgettable whale watching experience, you can book a 2.5-hour boat tour from Pride of Maui, including a snorkeling activity. Each trip can guarantee whale sightings, plus you can enjoy breathtaking views during your journey. You will also be treated to delicious foods on board, with an open bar where you can enjoy refreshing cocktails. 
The tour will depart from the Maalaea Harbor in Central Maui. If you are staying in a vacation rental in Kaanapali, the harbor is only 30 min drive away.
Leilani Boat Trips
If you prefer a small group tour for whale watching in Maui, you can book the Leilani Boat Trips. During your whale watching tour, you will be joined by knowledgeable naturalists who will educate you about the humpback whales, how and why they spend their winters in Maui, and other interesting information about the whales.
As a bonus, your whale watching tour will include visiting the finest snorkeling destinations on the island, the Turtle Reef and Molokini Crater. You also have the option to charter a private boat with crews for an exclusive whale watching and snorkeling tour. The boat tours will depart from the Maalaea Boat Harbor in Central Maui.
Pacific Whale Eco-Adventures
The Pacific Whale Foundation is one of the most popular companies that offer whale watching and snorkeling tours in Maui. They are a non-governmental organization established in 1980 and conducts whale research with an aim to educate the public about saving the vulnerable species of whales from extinction.
During your whale watching tour, marine naturalists will be with you and will share their knowledge about whales drawing from their more than 40 years of whale research. The company provides different whale sailing tours, from safaris to sunrise whale watches. Their tours will depart from both Maalaea and Lahaina Harbors. So, if you are staying at a vacation rental in Lahaina, this would be an ideal tour to book.
Some Tips for Booking Whale Watching Tours
While it is possible to spot some whales while casually walking down the beach of Maui, seeing them from a boat is a totally different experience. When you go for a whale watching tour, you can spot these giant species up close, and that's truly exciting. Aside from enjoying a much better view, these tours will come with an expert guide who will share interesting stories about whales and answer all the questions you have about whales.
One of the most important factors to consider when booking your whale watching tour is the type of vessel. Make sure to choose the boat that's most suited to your needs. Inflatable rafts are smaller, but they are faster and can zip you quickly to where the action is. The boat will get you close to the water and offer a more thrilling experience. However, these are not ideal for families with younger kids and those with back or neck problems.
Meanwhile, diesel catamarans offer wider and more stable viewing platforms with enclosed and shaded interiors. They can also accommodate over a hundred people and have naturalists who will speak through a microphone and headset. Another option is the sailing catamaran, with wider and more comfortable viewing platforms. This boat can accommodate groups of 30 to 40 people.
Begin Your Adventure at a Lavish Vacation Rental in West Maui
When you're ready to start planning your trip to Maui, the first step is to look for a great place to stay. The vacation rentals in West Maui would be a great base for your whale-watching adventure. West Maui encompasses the areas of Lahaina and Kaanapali. Some whale watching tours would depart from the Lahaina harbor, which is only a walking distance from some of these properties. And if the tour departs from the Maalaea harbor in Central Maui, you can drive for 30 min to get to the harbor coming from your vacation rental in West Maui.